Discover more from Looking Forward by Stephen Johnston
A newsletter about systems change and healthy longevity. Among other things.
Independent Ageing Convention, Aichi | Highlights
LF87 | Reflections on the inaugural Independent Ageing event in Japan that I attended last week
Last week I participated in the first Independent Ageing Convention in Aichi, Japan - a couple of hours from Tokyo. (A highlight of the week was video conferencing my son, from Tokyo Station, saying "The fastest train in Japan will arrive in 60 seconds", and it did, with its impressive bullet train sleekness).
This was a well-put together, thoughtfully curated event (kudos to Sylvia Perel-Leven, Chair of the Program Committee). In some senses it reminded me of the early days of Aging2.0's OPTIMIZE: testing out a new brand and format, relatively small, and great people. The focus, in my words, was 'validated agetech in the real world', drawing heavily on global researchers rather than startups or corporates.
Looking Forward by Stephen Johnston is a reader-supported publication. To receive new posts and support my work, consider becoming a free or paid subscriber.
There was significant support and presence of the local Japanese hosts, and it seems that Aichi is looking to stand out in ageing (and draw events to its expo hall). Happily there weren't that many presentations could have been given ten years ago (e.g. starting with population pyramids or referencing the stat that people really want to stay at home…).
The organizers clearly had invested in bringing people from around the world to Japan, and as such it was a great opportunity to catch up with old friends and colleagues from the past decade.
The setting - the Aichi Ski Expo is the largest exhibition hall in Japan - could have swallowed 100 of these events at the same time, and I imagine future events will make more use of its cavernous space.
Here's a few reflections - not time to capture all of the perspectives, so excuse my editorial license…
Integrating complexity science
Was good to see John Beard bring in complexity thinking to the discussion, noting that health is "an emerging property of a complex system". This operates both at the level of the individual (how the genome, the phenome and the environment impact healthy longevity) and at the place-based level- whether a place is a healthy habitat - see below on Primordial Prevention.
On the topic of complexity science, I enjoyed meeting Lisa Fabiny-Kiser from the SENS Foundation. Her presence was evidence that this event was looking to build bridges between gerontology, geroscience and technology.
Lisa shared this fabulous slide (above) illustrating the complexity of the metabolic system, and made the case for a better understanding of how to actually prevent and repair damage at the cellular level - between metabolism and pathology.
She also gave an update on progress of a potentially massive (if it passes trials) new cardiovascular drug, Cyclarity, which dissolves plaques. It aims to be universally available and charge $10 for a pill you take once per year.
Neighbourhood Networks - a UK style, PACE-lite
Professor Sarah Harper, CBE from Oxford University talked about local, community based innovations. She shared recent European work about long-term care (LTC) as a human right, and broke LTC into three layers: macro, meso and micro.
On the micro side, she called for establishing of an "effective digital infrastructure to enable effective planning and monitoring, co-sharing of information between providers, older adults and their families". Relevant to the digital family caregiving platforms out there.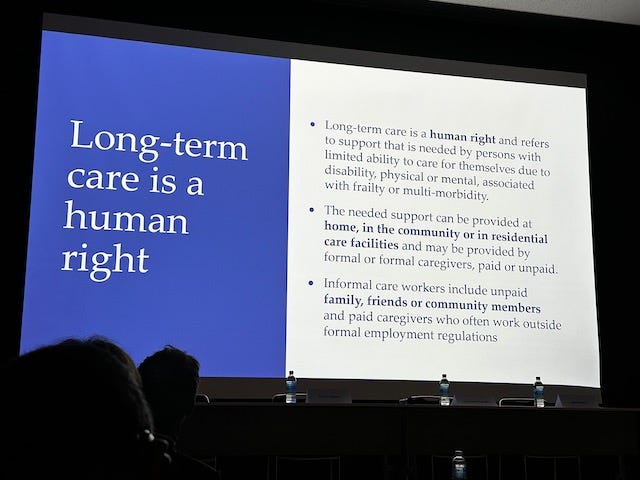 She shared a project funded by Helen Hamlyn Trust to re-examine the Elderly People's Integrated Care System (EPICS), which was based on San Francisco's OnLok model. This was America's first PACE program that has successfully kept many people in the community who would otherwise be in nursing homes. Many people are asking how to scale PACE (which only covers around 75,000 people across the US today). Prof Harper's latest project, Neighborhood Networks, is reimagining what was a rather heavy, expensive, center-based model (the UK EPICS implementation of PACE) with a 'Neighborhood Network' - lighter weight, with more active participation from older people and caregivers. They've been conducting a trial in Oxfordshire and finding it has been effective at empowering adults, deepening local bonds and improving person-centered care.
Primordial Prevention
Complementing Prof Harper's presentation, Katsunori Kondo from Chiba University shared a nice phrase 'primordial prevention', which basically means ensuring a healthy environment over the life course as a first line of preventative health.
He noted that despite people knowing they should walk more, average steps have declined over the past couple of decades (second image). However, steps are higher for people who live near parks, and health outcomes better for people living near grocery stores (likely because they are will walk more often and buy fresh produce).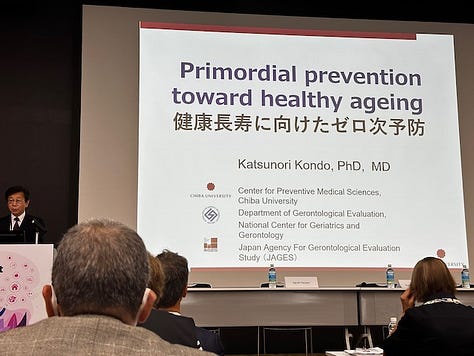 Rather than lectures about health, instead a collaborative, community based model is likely to be more effective. He pointed out that municipalities have little incentive to collaborate and share their models of what works with other towns, so he proposed a model for 'co-creation of healthy ageing' which included social impact bonds to reward positive outcomes.
He then shared a charming case study about a 'circular economy' project at Meguru Station that was able to tackle both late-life loneliness and positive environmental action. It's based around a recycling center that attracts people of all ages to socialize, and creates projects for older men, such as creating a vegetable garden and making a barbeque. That attracts younger people to come and enjoy the pizza and generally improves social bonding and recycling at the same time.
Other notable presentations that I saw (parallel tracks meant I had to miss many) included:
So overall, an excellent event that educated and connected and I think succeeded in carving out a more holistic view of agetech and its applications in the real world.
Going Forward
I'm interested to see where they go next - logically next year's event (if they have one) would be in Europe. This was the first 'home grown' branded conference from Kenes, who are conference organizers, and as such it was an experiment. They'll be looking to bring in more sponsors (always hard for a first event) and I would encourage them to include more startups (which show novelty and always attractive for corporates) but do it in a systematic way, so there's coherence between the innovators, aligned in addressing key missions that corporates care about. For example, there could be a portfolio of companies that all improve caregiving efficiency and help address the caregiver staffing crisis.
I would also love to see a panel of Mayors of Governors committing to make changes and coming back in 12 or 24 months to showcase their progress.
Final thoughts - would suggest others to be in the room: young people and environmental and civil-society experts. Transforming the future of aging for the next generation will require their active involvement (so more young people) and a recognition of how the world is changing - e.g climate change and the potential breakdown of democracy will impact future lives more than a new gadget.
Given the geopolitical and environmental crises we're hurtling though, it will be interesting to see where we'll be next year. One thing is for sure, there'll be a lot of fresh material to discuss.
Looking Forward by Stephen Johnston is a reader-supported publication. To receive new posts and support my work, consider becoming a free or paid subscriber.