Discover more from Looking Forward by Stephen Johnston
A newsletter about systems change and healthy longevity. Among other things.
Two business models for longevity
LF48 | Three recent openings highlight membership clubs and high street retail as two emerging business models for longevity
The eternal quest… for a business model
One of the challenges with healthy longevity is that while it's great for individuals and society, it's bad for business. The business that is, of today's medical industrial complex, which makes money from people being sick for a long time. While the $4tn US healthcare system is inching towards value-based care, it's still not mainstream, and most countries are still on a fee-for-sevice model (caveats about impressive small scale and / or experimental programs such as PACE aside).
As the Blue Zones taught us, the secret to healthy longevity is generally not to be engulfed by today's stressful, consumerist lifestyle. Instead the keys are to have friends, sleep a lot, eat less (but make sure what you eat isn't processed), walk up and down pretty mountain villages and believe in things bigger than yourself. Very little about that makes pharma companies or hospitals money.
While there are certainly going to be pills, drugs and devices that help people live longer, this post looks at three exciting recent longevity-focused openings that are using different business models: membership clubs and high street retail. Let's dive in.
This much anticipated palace of longevity - billed as a private wellness club - is the brainchild of property developer Tim Gurner, a devoted bio hacker and longevity aficionado. It aims to combine the serene, exclusive, private members club feel of a Soho House with the advanced longevity treatments of a Next Health.
It consists of gym, baths, longevity haven, member lounge and cafe. The place is brimming with shiny gadgets, soft color palettes, fluffy towels, heavy doors and a magical smell (not to mention immaculate staff and guests). Here's a video of some of the many features, which include:
A Gym, Yoga studio, Pilates studio and state of the art cycling studio. This is a high end version of a gym - Tim's very first entrepreneurial venture.

Ancient baths with a 35-degree thermal mineral pool enriched with Himalayan rock salts and minerals, a Vitamin-C shower, a 100-degree traditional sauna and a 7.5 degree ice bath.

The Haven. This is where it gets really interesting, as this longevity hub is full of the latest innovations designed to help you live longer, better, that are generally out of reach of individuals, or scattered around town. It has hypobaric oxygen therapy, IV therapy, a cryochamber, physiotherapy, lymphatic compression (your legs are squeezed to compress the lymph nodes), a pulsed electromagnetic therapy (PEMF) mat, red light therapy, an infrared stone bed and infrared saunas. Members get access to differing amounts of these based on their membership tier.

Members receive an Oura ring as part of their membership, which make it easy to share progress with trainers.
I signed up when I heard about it last year, and it opened last week. At around $500 per month for a basic membership, its price point is similar to a private members club, however, if wellness is your thing, Saint Haven will deliver far more value than the traditional members' club fayre of Chesterfield sofas and cocktails. Saint Haven has made the decision not to offer alcohol, which though potentially costly in the short term is aligned with the mission of longevity so feels like the right move.
The picture above is from the Forbes piece and those below from my opening visit.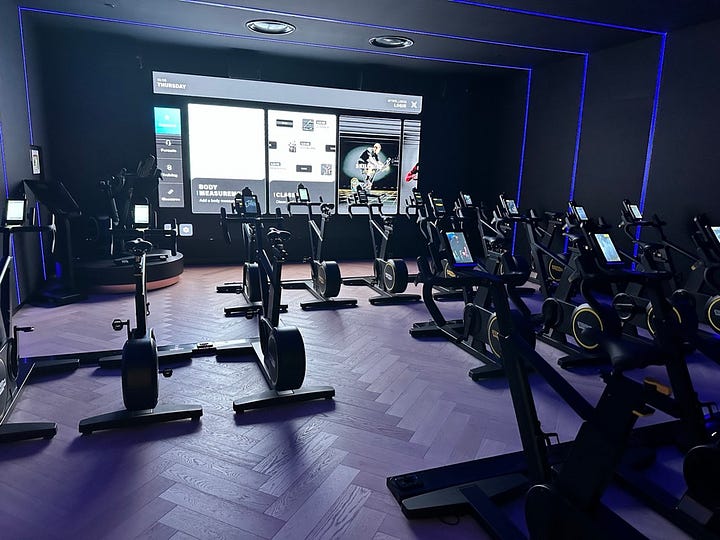 It'll be interesting to see how Saint Haven incorporates the key elements of personalization, e.g. using the Oura ring data, given how expensive personalized programs are, and community connection (given the lack of a communal space big enough for a large gathering). The 2-3 future venues already being planned for expansion in Melbourne will allow them to iterate and evolve their thinking.
The Club by Bamford is another high-end membership club focused on longevity, but in a rural setting with a heavy focus on sustainability and socializing. It's located in the impossibly picturesque Cotswold countryside is not far from Farmhouse, Soho House's country retreat.
This is about escaping from the city and feeling comforted - but with an emphasis on sustainability. Its restaurant uses locally sourced ingredients - 70% of the vegetables are grown on-site at Daylesford farm. Energy is renewable and comes largely from 280 solar panels. Materials are recycled where possible, and it has "sustainably certified organic cotton towels" and robes, hand-made local artisanal furniture. The building materials are sourced locally, timber is certified, and insulation is made of natural fleece. Further, "furniture is hand-made by local artisans using oak and leather sourced on-site at Daylesford farm, handrails are made by a local blacksmith and walls are hand-plastered using a traditional waterproof method of plastering native to Morocco."
Being in the countryside makes this a destination to visit on occasion rather than part of daily life, so I wonder what the catchment area is and how often people will go - i.e. will it make more sense to run it like a hotel with occasional visitors than a members club with daily or weekly visits?
I've not yet seen it personally, but look forward to checking it out when am in the UK later this year, so can provide an update then.
Modern Age doesn't have a gym, nor an obvious community building ambition, but delivers longevity diagnostics and services in an efficient, high-end way; very New York.
Given the founder Melissa Eamer's background in Amazon and Glossier, this seems targeted at building the missing high street retail experience for products and services for healthy longevity. The constant complaint from innovators in the space is the lack of distribution channels to reach the B2C market; this could become one.
They have a four-part aging wellness assessment covering skin and hair health, hormone health, sexual & urinary health, weight loss, cognitive health and general health. I recently visited their first clinic, located at 100 Fifth Avenue (they've since opened a second in the Upper East Side) and signed up for an 'Aging Wellness Assessment', which for $500 covers blood markers, metabolic health, cognitive fitness, bone density and skin health. You have an initial blood draw then sit down with one of their doctors to review the results.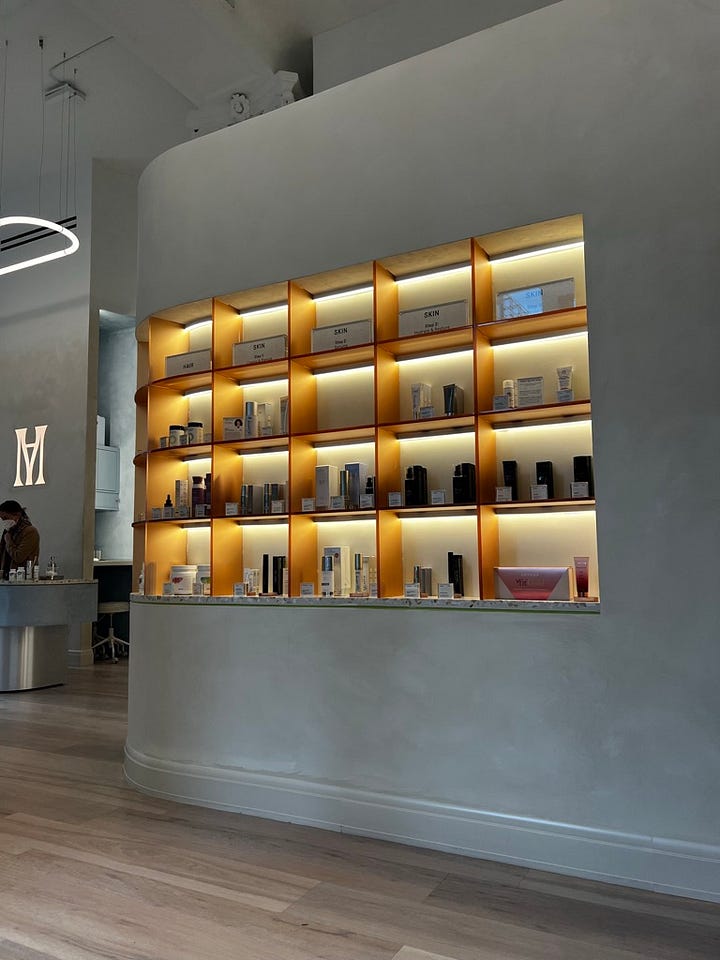 This is a bet that a row of shelves in CVS isn't enough to deliver products and service people need for longevity, instead people need education, advice and sensitive support as they navigate this delicate consumer choice.
The quest continues
Each of these impressive destinations brings its own DNA. We're still early in the mainstreaming of healthy longevity concepts, and I expect the months ahead will bring a flurry of new openings combining these elements and more.
Saint Haven and Bamford have built impressive but boutique experiences. The minute private members clubs become scalable they lose their allure. Hence if they have global ambitions, Bamford and Saint Haven will have to think of ways to build their brand and scale the products so everyone can have a taste, as the luxury industry has done. Maintaining community and delivering a personalized experience while growing will be key here. Modern Age on the other hand will have to compete with other more general channels such as Amazon, and rely on there being enough products - and customer willingness to engage - to make longevity an aspirational purchase, not just a category one ignores until there's been an incident such as a fall.
My particular interest is on the reinvention of the 'third place', long dominated by alcohol (British pubs) or coffee (European cafés and Starbucks globally). I would like to think Saint Haven's dry approach is a signal of a broader trend away from alcohol as our go-to crutch.
I'll be reporting on new places as I come across them - with or without a drink in hand - so watch this space.